Article
From the experts of Zen U: Optimize your views
Published October 6, 2016
Last modified May 21, 2020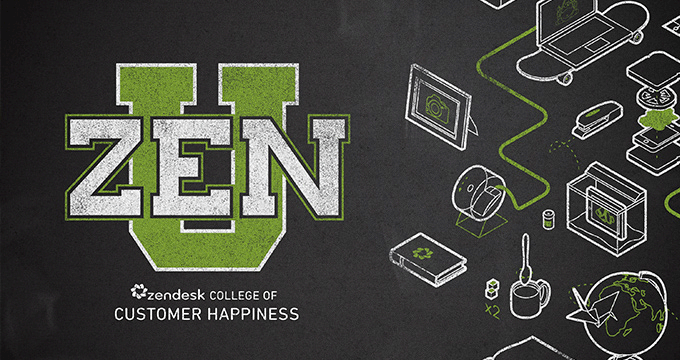 Did you know that if you teach a man to fish he'll be able to eat for a lifetime? Us too. But we're not here to give you that kind of guidance—that's what quote of the day mobile apps are for.
We're here to help you understand Zendesk better. With Zen U, you can participate in an interactive curriculum and learn from experts like Austin Hinz, one of our Zen U trainers. This November, we're taking Zen U on the road and packing a ton of curriculum into a full day of live training that covers everything from agent essentials to admin workflows and advanced features.
Tips from Zen U Live: How to optimize views
Here, Austin gives us a sneak peek and shares his tips for optimizing views in Zendesk.
Get active: Use dynamic conditions
To optimize your views, take advantage of dynamic conditions such as "current user's groups" when setting views up. This will limit the number of views you'll need to create. One example might be "unassigned tickets in my groups."


Think like the Romans: Add more columns
Be sure to add relevant columns to your view. This will give agents more information when looking through the tickets in each shared view. Plus, agents will now have more ways to sort tickets. Common additions are: ID, Latest update, and Next SLA breach.

Channel your inner minimalist: Assign specific views
Sometimes less is more. Be sure to reduce the number of shared views for agents that don't need them. Take advantage of the "Available for - Agents in group" option at the bottom of each view setup.
By taking advantage of dynamic conditions and limiting the number of views you need to create, you'll save time, keep organized, and more importantly, make sure no customer is forgotten.
Meet the experts
If you'd like to hear more in-depth tips from the pros, enroll in one of our Zen U Live training events, and join the Zendesk Customer Education team for a day of interactive learning. Whether you're brand new to Zendesk or could use a refresher, you'll be able to dive in to up-to-date, hands-on product training and ask any questions you might have.
Meet us there:
Austin, TX - Wednesday, November 2, 2016
NYC, NY - Friday, November 4, 2016
SF, CA - Wednesday, November 9, 2016
Seating is limited, so enroll now before classes fill up! Take advantage of Early Bird pricing at $425 a ticket, available through 10/14/16. Tickets will be $500 after 10/14/16.
Become an expert yourself. View the full agenda and register here.